Welcome to the website for Robert & Barbara McOwen. We have interests in Mathematics, Movies, Books, Travel, History, Scottish Music, Scottish Dance, and More. Please feel free to browse through the various buttons and links, and come back soon.

---
NEW:

Aonghas Grant's book The Glengarry Collection is done and was released by Mel Bay October 2010. Yikes - it's been 9 years! The book includes 164 tunes - slow airs, marches, strathspeys, reels, jigs and hornpipes - plus bowings, grace notes, alternate readings, stories, history, photographs, extensive background material, and and AND a DVD! This is Volume 1; Volume 2 is well underway, so there will be more. If you go to melbay.com you can search for "Aonghas" or "McOwen", or click over HERE. If you think you'll be seeing me (or Aonghas or Peggy or Laura) we've all got copies, or you can mail order direct from Mel Bay or from your fave music outlet. Hope you enjoy it!

Himalayas Fiddle Adventure - Yes, you read that right! You can click over to www.scottishfiddle.org/darjeeling. All the details are there; suffice it to say here that this is an incredible once-in-a-lifetime chance to do something you love with people you share your interests with in a place you may never get to otherwise. My friend Nirmal Mondol is the inspiration for this, and Greg Freitas of the San Francisco Scottish Fiddlers has put together a superb itinerary and package. I'm helping with the website etc. and I'm planning to go. It looks really good to me! Although the total price appears high at first, it is priced at cost, including 3 outstanding fiddle teachers, and it is an extremely low price for such a trip. So, please think about it - it would be great to see you there.

Last summer we visited our families in Berkeley and Pasadena. My mother lives in Berkeley with her brother and one sister, and last August we had a rare visit from my mother's other sister, so here's a photo of the 4 siblings -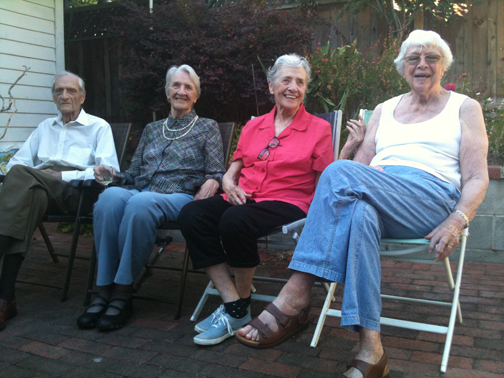 Arthur, Betty, Phyllis, Barbara, Berkeley, Calif., August 24, 2010
Then we managed a quick trip to the Sierras with Calli Morrow and Michael Rowen. They have a family cabin not far from where Barbara's family camped and hiked, year in year out, from before my birth til I opted out in my teens. Here's a photo of my cousin and myself hiking up towards Ruby Lake, overlooking Little Lakes Valley -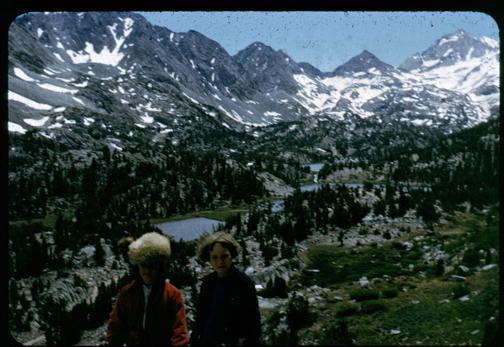 Janice & Barbara, Overlooking Little Lakes Valley, John Muir Wilderness, Calif., ca. 1955
Bear Creek Spire (elev. 13,700 ft) on the right
More memory lane - a few days later while in Pasadena, Robert managed to find some family friends from way back -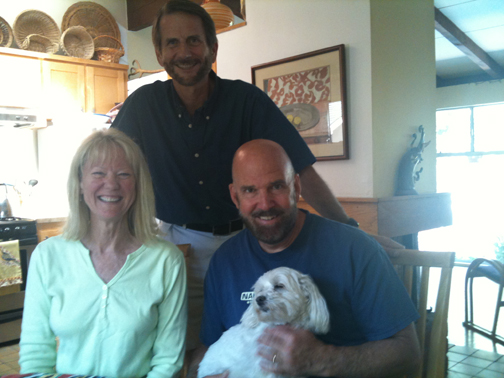 Robert with Kitten & Ken Borgers, September 6, 2010, Long Beach, Calif.

We've put about 90 photos from our trip to Siberia up on the web - Go to the Photos page and click on the Siberia link. Hope you enjoy them. We're also back from Japan, Scotland and Rome and we're sitting on some pretty interesting photos, which we will post some time soon. Also, check out our Greece page! It now includes our entire 4-week Journal, and as many photos as we can fit in.

Robert stepped down for the second time from the Chairmanship of the Mathematics Department last year and had a Sabbatical for Fall 2010. He's now back to full-time mathematics. The department at Northeastern is re-vamping its website - click to www.math.neu.edu to take a look.

---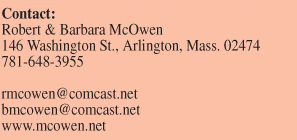 Web Page Created: May 1, 2003
Last Modified: March 10, 2011
The Events page is WAAAAY out of date!
Webdabbler: Barbara McOwen


---